AHT Brazil wins Ecxellent Product Award
Ecxellent Product Award for AHT Brazil
Every year, DAIKIN Industries Limited hosts an event to celebrate the DAIKIN anniversary. At this event, both individuals and teams who have performed well in the past year are honored through the President Award Program. Applications for DENV are based on recommendations from the top management.
The six prizes are awarded in four categories.  Besides the CEO Award and the Leading Innovation Award, the President Special Award and the President Recognition Award are presented.
The President Special Award is divided into the three categories Ecxellent Innovation Award, Excellent Product Award and Excellent Manufacturing Award.
Award-winning innovation
This year, AHT Brazil received the Excellent Product Award for its innovative product development. Due to the market structure, the high imports costs of existing chests such as VENTO and to be able to meet the local market demand in 2022, the R&D department of AHT Brazil developed the vertical plug-in refrigerated shelf "MVP-Series". The new MVP series is a local product that is fully adapted to the needs of the Brazilian and Latin American market. As a result, AHT Brazil has of course increased its competitiveness on the market.
AHT was the first company to use an R290 inverter for a vertical plug-in refrigerated shelf on the Brazilian market. With the new system a cost and price reduction of approx. 50% compared to VENTO has been achieved.
The modular concept of the MVP series enables cost reduction through common components and maximizes the expansion of the product range. The main advantage of the new system is the smaller case size, which allows easier handling during transport, production and assembly, as well as the high energy efficiency as the models are only available with glass doors.
The award ceremony took place this year on February 4th.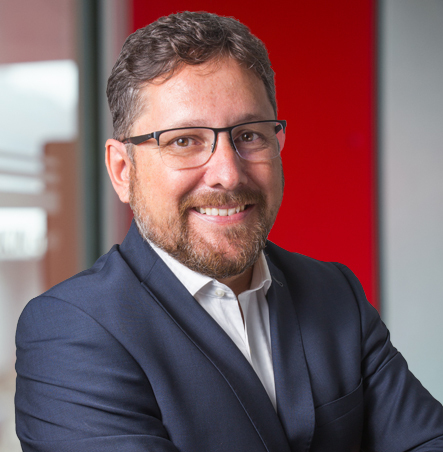 Ronaldo Bartolomei, Managing Director of AHT Brazil
"The entire AHT Brazil team feels very honored and proud about this award. My special thanks goes to the R&D team who was responsible for the innovative development of the new MVP series and has done excellent work ", Ronaldo Bartolomei, Managing Director of AHT Brazil.